Concepts Oxlife Portable Oxygen Concentrator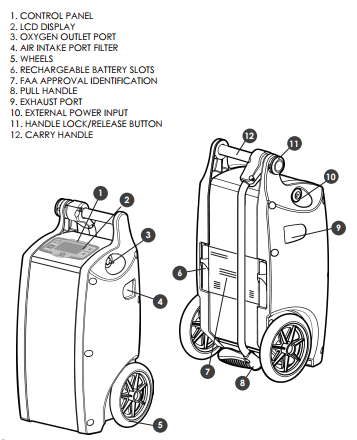 Who buys this:People who want a reliable way to travel without risking their health. People who value their freedom of movement.
Why they love it:It's portable, quiet, and easy to use.
The Oxlife Independence provides 1-3 LPM of medical-grade O2 in continuous mode and up to 96 mL in pulse mode in just one unit. The portable concentrator features exclusive technology to simplify ownership and enhance oxygen purity. This sophistication comes in a package that O2 Concepts claims is the category's smallest, most agile and has the best battery life.
O2 Concept's exclusive Dynamic Network Analysis (DNA) technology simplifies ownership via over-the-air diagnostics to determine maintenance, update software and troubleshoot. For healthcare providers, DNA monitors usage and ambulation for the first 30 days. DNA Technology Communications Access services may be initiated with an activation fee (product item number 830-2000) and a year later an annual fee (product number 830-2001).
The machine also employs patented Energy Smart Absorption technology that uses multiple reservoirs for higher oxygen purity and flow volumes while using less energy. Despite being a featherweight 16.7 pounds, the made-in-the-USA Oxygen Concentrator packs heavyweight technology. The Oxlife Independence employs intelligent Dynamic Network Analysis technology that uses 3G cellular technology to link it to a secure server via the Verizon network.
Features and Benefits
Dynamic Network Analysis technology equipped with GPS system and transmits operational data as well as error codes.
Concentrator can run pulse or continuous mode off of AC power (home), DC power (vehicles) or a lithium ion battery.
Large, user-friendly control panel easily controls oxygen mode and flow rate.
FAA approval for use on commercial airlines that originate in the United States; rail and sea travel are also possible, contact the cruise or rail line before booking travel.
Integrated cart includes 6-inch wheels and handle; cart stows away in seconds and fits under airline seats.
Durable light-weight magnesium case ready to withstand life on the open road.
Long battery life offers worry-free extended outings.
Easy and simple battery changes. Two battery ports let you change rechargeable batteries without turning the device off. No removing from cart or canvass bag to replace batteries.
Oxlife Independence is FAA-approved for air travel.
Product Specifications

Size and Weight
Width: 10.9 inches.
Height: 20.2 inches.
Depth: 10.9 inches.
Weight: 16.7 pounds.
Battery Cartridge Weight: 1.35 pounds each (2.7 lbs. for both).
Wheel Diameter: 6 inches.
Performance
Max Oxygen Flow Rate: 96 mL pulse flow and 3 liters per minute (LPM) continuous flow.
Pulse Dose: 0.5 – 6 in 0.5 increments (8 mL – 96 mL).
Continuous Flow: 0.5 – 3 LPM in 0.5 increments.
O2 Concentration: 95.6 to 87% at sea level — all settings.
Oxygen Outlet Pressure: 5 PSIG (+/- 1 PSIG).
Noise: 40 dBA at setting 2 pulse oxygen dose.
Operating Altitude: up to 13,123 feet above sea level.
Operation
Average Power Consumption (at setting 2): 90 watts.
AC Power Connection: 100 – 240 VAC (universal input); 50 – 60 Hz; 2 Amps.
DC Power Connection: 12 – 15 VDC; 10 Amps.
2.0 LPM Continuous Flow: 2.5 hours.
2.0 LPM Pulse Flow at 20 BPM: 5.75 hours.
Power Cartridge Recharge Time: 1.5 hours – 1 battery; 2.5 hours – 2 batteries.
FAA Approval: Yes.
Manufacturing and Dependability
Product Numbers: 800-0001-2.
Case Material: durable magnesium and composite.
Manufacturer: O2 Concepts.
Brand: Oxlife.
Made in USA.
HCPCS codes: E1390 and E1392.
Machine Warranty: 5-years.
Accessories and Battery Warranty: 1 year.
Alarm System Notifications
Low battery.
Low purity.
No external power.
No flow.
Over temperature.
Service required.
Unauthorized battery.
No breath detected.