The Aerobika Oscillating Positive Expiratory Pressure Therapy System ( Monaghan Medical 62510) is a Mucus Clearance Device made by Monaghan Medical. This PEP Therapy System is a Respiratory Therapy device that creates pressure in the lungs to keep the airway from closing and help move mucus into the larger airway passages where it may be coughed out. This therapy system can be life-changing for people with breathing-related disorders, such as chronic obstructive pulmonary disease (COPD) pneumonia, emphysema, chronic bronchitis, bronchiectasis, and cystic fibrosis. The Aerobika device naturally opens weak or collapsed airways to allow more oxygen intake without the need of medication. Movement of mucus has been clinically proven to decrease cough frequency and breathlessness. Individuals with COPD who use this device have found an increased exercise tolerance for a more active lifestyle and a better quality of life.
What Does the Aerobika Oscillating PEP System Device Do?
The small ergonomic design of this Breathing Therapy device helps users easily hold the Aerobika OPEP in the palm of their hand. As the user exhales through the Aerobika flutter valve, they will feel short pulses of resistance against exhaled breath as the mucus loosens and encourages forceful "huff" coughs. The Aerobika valve provides the oscillating positive pressure with five resistance settings. Users can switch between higher and lower settings of positive pressure to find the right amount of pressure for their needs.
Features and Benefits:
Provides Drug-Free Airway Clearance
User-Friendly Device
Opens Weak/Collapsed Airways
Breaks Up Mucus
Decreases Coughing
Decreases Breathlessness
Five Resistance Settings
Increases User's Ability to Exercise
Ergonomic Handle Design
Shorter Treatment
Inexpensive Device
Lightweight
Easy to Clean and Reassemble
Dishwasher Safe
Clinically Proven
Supports Hospital COPD Management Protocols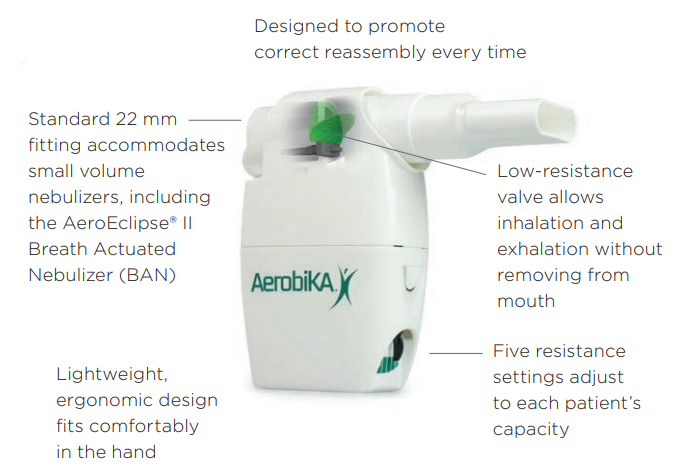 Who Would Benefit from Using this Product?
Users with the following breathing-related issues may find this product beneficial:
Chronic coughing
A cough with mucus
A cough that does not clear out mucus
Easily becoming winded
A lung infection
Shortness of breath
Trouble walking for long intervals
Difficulty accomplishing tasks
Indications
When used with compressed oxygen, this item provides supplementary oxygen and is intended for use as the following:
Positive Epiratory Device (PEP)
Positive Airway Pressure (PAP) (when used in combination with the Monaghan VersaPAP).
PEP devices are indicated for the following conditions:
Asthma
Bronchial Hygiene Therapy
Chronic Bronchitis
Chronic Pulmonary Conditions
COPD
Cystic Fibrosis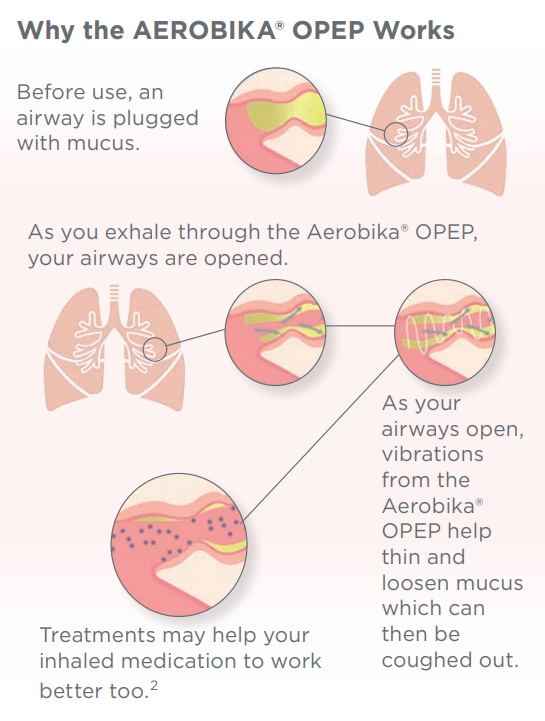 Contraindications
No absolute contraindications exist. However, relative contraindications exist. Users should always let their healthcare practitioner know if they have or have had any of the following conditions before using the Aerobika Oscillating PEP Device:
Acute asthma
Acute sinusitis
COPD (when unable to tolerate increased work of breathing)
Epistaxis
Esophageal surgery
Facial surgery (if recent)
Head trauma (if recent)
Hemodynamic instability
Hemoptysis (if active)
Inner ear pathology
Intracranial Pressure (ICP) >20 mm Hg
Nausea
Pneumothorax (if untreated)
Skull Surgery (if recent)
Tympanic Membrane rupture