Product Details & Information
Manufactured by Inogen, the Inogen One G3 system is one of the lightest and smallest portable machines on the market weighing 5.25 pounds (including the standard battery and carry case), 3.5 pounds by itself, 4.8 pounds for device and battery. The design allows the freedom and independence that are missing with traditional devices. This portable Inogen machine can be used for stationary or portable oxygen for traveling. The Inogen G3 Concentrator can be powered from three separate power sources: a rechargeable lithium-ion battery, AC power, or DC power. The AC power supply is auto-sensing, allowing worldwide use. The oxygen flow is a pulse dose with five settings from 1 to 5. Oxygen concentration levels are from 87 to 96 percent with a maximum flow of 840 mL. Noise output is a modest 39 decibels. It is capable of continued use both day and night while on extended vacations.
The Inogen G3 is sleeker, slimmer and more efficient than the G2. (pictured to the left in a comparison). The G3 employs breath detecting pulse flow oxygen, which optimally conserves energy usage and time between recharging.
Inogen One G3 Oxygen Concentrator provides Sleep Mode Technology that adapts to individual needs. Replace your cumbersome and heavy oxygen tanks that need refilling with an Inogen oxygen machine that can operate 24 hours a day, 7 days a week when you need it. No more exchanging or refilling heavy oxygen tanks or cylinders. No more bothersome regulators that require frequent adjustments. Just turn on and go!
Summary of G3 Components
Offering 840 mL maximum oxygen flow.
AC power adapter that is world wide auto sensing.
DC power adapter allows the unit to be powered by an external 12 V battery source.
Inogen Rechargeable lithium ion battery.
Inogen Carry bag provides a protective cover with a handle and adjustable shoulder strap.
7 foot cannula from Salter Labs which is soft and quiet. Item #1600G.
User manual that provides setup and operation instruction.
Features & Benefits
Lightweight and small size offers easy portability.
Different battery options, long lasting or lower weight.
Four settings of breath detecting pulse oxygen flow which conserves energy and recharging time.
Noise output is 39 decibels, significantly less than human conversation.
Provides Sleep Mode technology that adapts to individual needs during sleep.
Has the ability to operate 24/7
Eliminates the need to exchange or refill heavy tanks or cylinders.
FAA approved for in-flight operation.
If you are looking for an Inogen One G3 for sale, this is the ideal single solution for oxygen at home, away and while traveling.
Product Specifications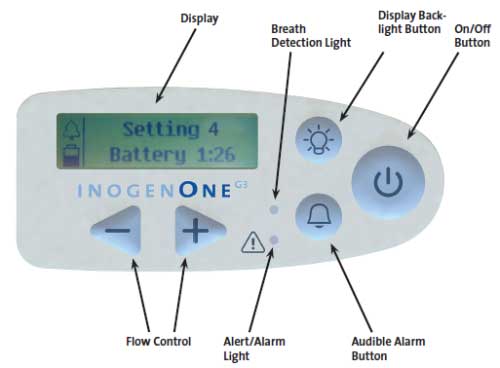 Performance
Oxygen Flow: Pulse Dose: Settings from 1 – 5
Maximum Output Flow: 1050 ml/min
Oxygen Concentration: 87 to 96% at all settings
Maximum Outlet Pressure: 25 psi
Operating Altitude: 0 to 10,000 feet above sea level
Operation
Average Power Consumption: 40W.
Power Requirements: Universal Power Supply: AC Input: 100 to 240 VAC, 50 to 60 Hz, Auto-Setting: 1.0A
DC Input: 13.5-15 VDC, 10A.
DC Output: 19VCD, 5.0A max.
Inogen Rechargeable Battery: 12V to 16.8V
Noise: 39 dBA.
Warm Up Time: 2 Minutes
Inogen One G3 is FAA-approved for airline travel.
Manufacturing and Dependability
Manufacturer: Inogen
Brand: Inogen G3
Made in USA
HCPCS code: E1390
Expected Compressor Life: 20,000 to 30,000 hours, a leader in the industry
Warranty: 3 years machine, 1 year sieve beds, 1 year accessories. See Inogen manufacturer limited warranty statement for details.